Bizarre Car Features: 5 of the Strangest Ever Offered
Vehicle manufacturers are always searching for the next innovative feature to set themselves apart from the competition. Sometimes they strike gold, but other times, their offerings are simply strange. In this article, we'll take a look at 5 of the most bizarre car options ever offered.
Toyota Van's Built-In Ice Maker
With seating for seven, the 1984 Toyota Van (actual name), was marketed as a family vehicle. However, to make things really feel like home, the folks designing the 90 horse-power cruiser felt it necessary to include a functioning ice maker. The shoe box sized device even came equipped with spill-proof ice trays. Toyota replaced the Van with the Previa in 1990, but unfortunately, the ice maker didn't make the transition.
Rolls Royce's Umbrellas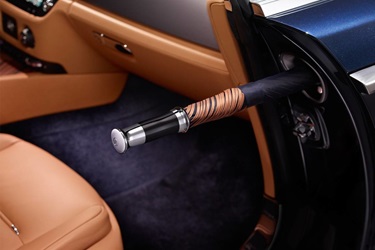 When you think of a Rolls Royce, you think of class, luxury, and affluence. In keeping with that theme, the people at Rolls Royce knew that their customers had little use for ever being caught in the rain unprepared. The manufacturer went so far as to ensured it by including a pop-out umbrella concealed within the rear door of their, likely chauffeured, vehicle.
Pontiac Aztek's Tent
An outdoorsman's dream. The Pontiac Aztek quickly rose in popularity in the early 2000's in part due to it's unique pop-up tent feature. The tent had straps that attached to the wheel well, roof railing, as well as stakes for the ground. The now defunct automaker even offered an inflatable bed designed to fit perfectly in the back of the vehicle, turning it into a true mobile campsite.
Mercedes Benz's Perfume Dispenser
Everyone gets disappointed when that new car smell begins to fade. But rather than have their customers attach a $2 pine tree air freshener to their rearview mirror, Mercedes, as Mercedes does, went the extra mile, introducing custom perfume dispensers to their higher-end models. The "active perfume sensing system" comes with various intensities and can be controlled by the driver. Mercedes offers various custom scents or provides an empty vile to be filled with each driver's own favorite aroma.
Volvo's Anti-Kidnapping Heartbeat Sensor
Volvo may be known for safety, but this James Bond-esq feature takes it to a whole new level. I'm not sure if car intruders were a big issue in the early 2000's, but the Swedish automaker took no chances, installing a sensor in the vehicle that detected the presence of a heartbeat. The signal was then transmitted directly to the vehicle's key fob, allowing the unsuspecting driver to be aware of potential danger ahead.
Ready to wave goodbye to fleet management headaches?
Let Motorlease take the wheel! Our fleet experts will handle all your vehicle needs. Experience the joyride of turnkey fleet management!